HealthTech in Asia: Caveat Emptor, Caveat Venditor
Similarly to reports in the USA, HealthTech, aka digital health, in Asia Pacific is a reality and it at an inflection point. According to Galen Growth Asia, over US$2.6B was invested in HealthTech ventures across 230 deals in 2017, breaking all records, and the first quarter of this year saw another $979M invested.
Last week, Ping An Good Doctor, a China Online-to-offline (O2O) healthcare servicing platform, kicked off Q2 2018 by raising HK$8.77B (US$1.1B) in the largest Hong Kong initial public offering so far in 2018. HealthTech in the region is by all evidence heading for another record braking year of funding!
Best estimates place the number of digital health startups in Asia Pacific at more than 3000 which come in all shapes and sizes. Should we be excited? How does an investor, a commercial partner or a prospective employee decide?
Caveat Emptor, Caveat Venditor
As the number of HealthTech ventures continues to grow, it is vital to be able to distinguish between them and make informed decisions whether you are a venture capital analyst, an enterprise wanting to partner or talent wanting to work in this exciting sector.
HealthTech startups are different from other industries and therefore require their own focused analysis. Data is scarce, pitch decks are elaborate and most claim an Artificial Intelligence capability. Even within the ecosystem, two digital health ventures may be very different despite being in the same category e.g. telehealth.
The significant growth in momentum in Asia HealthTech in the past few years has created a need amongst investors, media and enterprise, amongst other key stakeholders, to better understand and evaluate the ecosystem.
Referring to the comprehensive analysis of the HealthTech investment landscape provided by Galen Growth Asia, if you remove the mega-deal outliers like the Ping An Good Doctor IPO, the large majority of deals are averaging a handsome $9.9M of incoming capital per deal. In fact looking deeper, readers will discover that series B and C deals are growing in value, whereas series A deals are growing in volume but their ticket size is shrinking.
With 230 deals executed in 2017 and 50 deals so far in 2018, it is getting increasingly difficult to differentiate between the ever growing number of HealthTech ventures in the region.
Seeing The Wood From The Trees
The team at Galen Growth Asia, the Asia HealthTech Connector & Builder, which have, for a number of years, been studying this exciting ecosystem and built a unique database of the startups in the region, concluded earlier this year that key stakeholders needed a set of indices to enable smart and rapid comparison and decision making.
They have developed a set of HealthTech indices, which leverage proprietary algorithms, to measure the overall health and growth potential of each digital health startup in Asia.
There are four distinct and independent Alpha Indices that are synthesised into one final Alpha Score. These are as follows:
Momentum index: evaluates the maturity and performance of the HealthTech startup relative to itself and ecosystem peers
Money index: quantifies the financial strength and wellbeing of a HealthTech startup based on its financing history, and investor quality
Impact index: assesses the relevance to an HealthTech startup to the ecosystem
Market index: measures the health of the sector category and sub-category in which a startup competes
HealthTech Alpha ultimately scores a HealthTech startup on a scale from 1-100. This creates a ranking which provides an assessment of each startup.
The snapshot below illustrates the power of the Alpha Score in comparing ventures within the same category and the same market. Subscription to HealthTech Alpha will provide the reader with greater detail on each venture featured as well as access to every digital health startup in the region.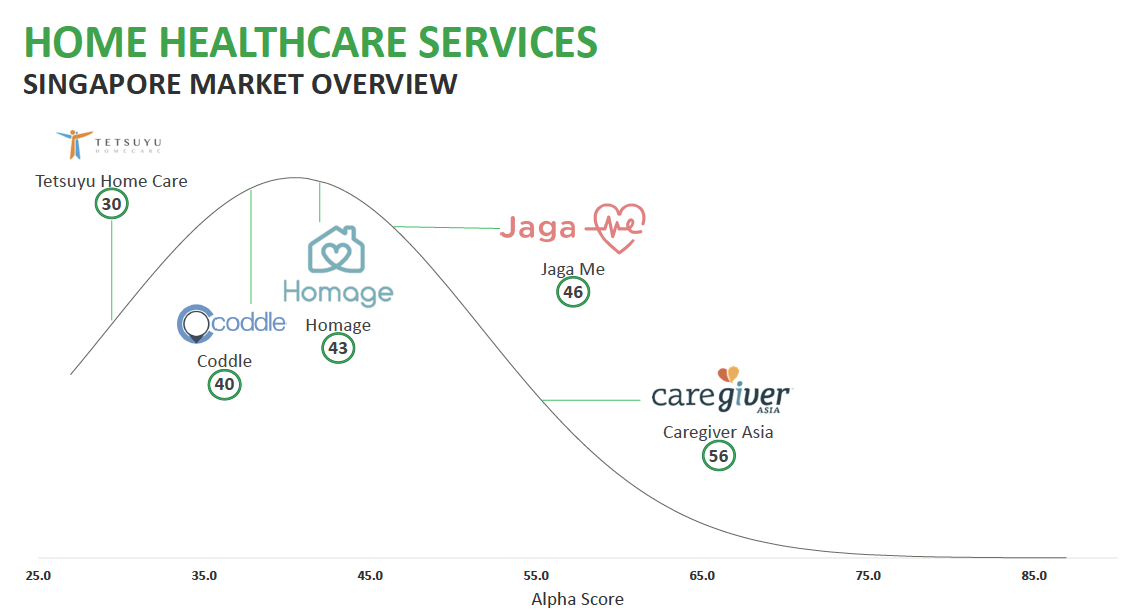 The team is now working on developing additional indices which assess technological capability (e.g. is AI really AI?) and regulatory rigour (e.g. what steps are being been taken to be compliant?) to name a just a few highly relevant insights.
Defying Gravity
Many of these Asia HealthTech ventures will fail and a few will succeed. Better visibility and greater transparency will encourage better dialogue and help identify which of these promising ventures will eventually defy gravity.
The good news is that HealthTech founders and CEOs are now able to ensure that they are compared on a like for like footing. Investment firms' analysts and partners, enterprise's innovation and strategy teams, amongst other key stakeholders, are at least now able to see the wood for the trees.
---
Authored by: Julien de Salaberry
Copyright © 2018 Galen Growth Asia